Looking for the best campervan water heaters for your van build or upgrade? These are our top 6 recommended van life water heaters. 
Van life isn't always glamorous. And while you're busy collecting call of the van life essentials, sometimes you have to cut some corners on what creature comforts you can do without. But we don't think you should have to consider going without hot water at any point during your adventures.
While traveling in a camper van or RV, you will want a steady and reliable hot water supply to clean your dirty dishes, take hot showers or even wash some laundry in the sink from time to time. Trust us, hot water is as much a necessity as it is a luxury when you spend days boondocking off-grid in beautiful places!
A campervan water heater ensures that you always have hot water on demand and can enjoy some hot showers from time to time without having to drive around looking for free showers or paying for a campground. It is a fairly standard and integral part of any van water system that you should plan into your van conversion.
Propane water heaters can provide hot water even when there isn't any electricity nearby. But you can also find heaters that run on electricity if you plan on being plugged into shore power regularly. The best options will combine both giving you an option on when to use each fuel source.
Of course, water heaters come in various kinds, and the size of your campervan and other personal preferences will determine which type to use. There is also more than one way to heat water in your camper van and we'll cover these options as well.
This post will focus on the best campervan water heaters available in the market and explain factors to consider before you shop. On that note, let's get into our top pick!
Our Pick – Camplux Pro 1.58 GPM Tankless
Compact, lightweight and portable
41,000 BTUs of hot water
Variety of mounting options
---
Best Product // Our Top Picks at a Glance
---
The Best Campervan Water Heaters for 2022
Water heaters are an essential piece of equipment for camper vans. But they all have different features so it's essential to find one that matches your needs.
Let's go into a detailed review of each one of the best campervan hot water heaters available in the market.
---
Best Overall: Camplux Pro 1.58 GPM Tankless
Price Range: Under $200
Type: Tankless on Demand
GPM/Capacity: 1.58 GPM
BTUs: 41,000
Power Source: Propane
When it comes to space, weight and efficiency this Camplux Pro is your huckleberry. This tankless water heater is perfect for van life because of its compact nature and its ability to run off of a portable propane tank.
You'll pack it away when you aren't using it. But when it's time for hot water, hang the heater on or near the outside of your van, connect it to your propane tank and water source and let it do its job, heating water at 41,000 BTU.
It comes packed away with all the accessories you will need – both hot and cold hoses, a compact showerhead and the propane hose adapter.
We really like the Camplux Pro because you can also plumb it into your campervan water system and LPG system. You could install quick-connect adapters to your water and LPG tank and have a hook on the outside of your van where you can quickly set up an outdoor shower.
Or you can leave it freestanding to use outside wherever you have a source of water and a portable propane tank.
On the downside, this water heater is not designed to be a permanent solution for providing hot water. It is more of a portable shower. As such, you'll only be able to use it when camping at a formal campground where you have a cold water spigot and you'll always have to have propane nearby to use it.
But if you don't want to permanently install a larger water heater and you have a constant source of water and propane, then this is a great budget-friendly option.
PROS
Compact, lightweight and portable
Connects to any source of propane and cold water
Instant hot water on demand
CONS
Not usually permanently installed
Not ideal for boondocking
---
Best Tankless: GIRARD 2GWHAM
Price Range: Over $700
Type: Tankless
GPM/Capacity: N/A
BTUs: 42,000
Power Source: Propane
If you don't want to turn on the water heater and stand around waiting for a tank to warm up, this innovative tankless water heater from GIRARD is your best bet.
Although it operates with just a 12-volt source of power and draws less than three amps, its 42,000 BTUs deliver enough heat for an entire day's worth of hot showers! 
When connecting to shore power it heats the water in about eight seconds and offers optimal temperature stability without annoying fluctuations between hot and cold.
We really appreciate that although the water heater is bulky in size (15″ x 18″ x 15″) it is relatively lightweight as there is no tank inside holding water. It is also quite easy to install. You connect the water inlet and outlet and the 12-volt wiring and it is ready to go.
This is a great option if you have an existing tanked RV water heater and want to replace it with something a little more efficient in the same amount of space.
On the downside, this unit needs a minimum water pressure of 40 psi to operate without burning up the heat exchanger. So you'll want to invest in a great water pump or be sure you have a steady city water connection in campgrounds.
It also comes without an external door, so you'll have to buy that separately or get used to having a 13″ x 13″ exposed heater on the side of your van. And it is pricey. But you get what you pay for.
PROS
On-demand hot water
Installation is straightforward
Lightweight
Compatible with both gas and electric power
Temperature adjustment is simple and easy with the built-in monitor and information LEDs
CONS
Bulky dimensions
You cannot purchase a second User Control Panel
Might not work in extremely low-temp areas.
---
Best RV-Style Tank Heater: Dometic WH-6GEA
Price Range: Under $500
Type: Tanked (RV Style)
GPM/Capacity: 6 Gallon Capacity
BTUs: N/A
Power Source: Propane
The Dometic WH-6GEA is among the best water heaters on our list. This 6-gallon heater will provide you with more than enough water for your average consumption needs, particularly if you're like us and enjoy boondocking.
This Dometic model can work on both propane gas and electricity with a powerful 120-volt AC element and a 12v DC direct spark ignition system to heat the water rapidly.
The heater will produce a solid 10000BTU heat with a 10.2 gallons per hour recovery rate, making it one of the fastest hot water heaters for campervans.
It has a 6-gallon hot water tank with firm construction. The tank is made of aluminum, which makes it lightweight and corrosion-resistant. And it does not require the additional maintenance of an anode rod.
On the downside, this is a tanked water heater so it takes up space and weight inside your campervan. Traditionally RV water heaters are not installed inside van conversions. But if you're going to go with one, this would be the one to install.
And if you are installing it from scratch in your camper van conversion you will need to follow the installation instructions carefully as you will be required to cut a 12″ x 12″ hole in the side of your van. It's also pricey. But you won't have to worry about replacement or maintenance down the road.
PROS
Insulated water tank.
6-gallon strong and rust-proof water tank.
Works on both electricity and propane gas.
Rapid heating.
CONS
Heavy
Large dimensions
Challenging to install.
---
Best Mini-Electric Heater: Bosch Electric Tronic 3000 T
Price Range: Under $250
Type: Mini-Electric
GPM/Capacity: 4 Gallon Capacity
BTUs: N/A
Power Source: 110V Electricity
The Bosch Tronic 3000 T is an innovative, excellently engineered hot water heater that won't leave you waiting for hot water.
It has premium glass-lined material to ensure the durability and long service life of your mini-tank water heater. With its thick CFC-free foam insulation and glass-lined tank, the unit achieves maximum energy efficiency and durability.
Not only can it be floor, or shelf, mounted, basically, anywhere there's space for it on the wall of your van conversion.
We really like this Bosch model because it is only 13.5″ x 13.5″ x 13.5″ and can fit virtually anywhere inside your camper van. Stow it away beneath your sink and have short plumbing lines between your water tank and sink. We also like that it has a standard 36″ AC plug so that it does not need to be hard-wired into your van's electrical system.
Whether you're in a hurry to get some dishes done or just want to grab a quick shower, the Tronic 3000 T is happy to help you out.
On the downside, unfortunately, there is no propane option for powering the Tronic 3000T. So if you plan to do a lot of boondocking you will either need to have a generator as a power source or you will need to plan to go without hot water. Additionally, it is relatively expensive for its 4-gallon size.
But if you plan to travel mostly from campground to campground with a few stops at friends' or family's houses along the way where you will have access to shore power, this is a great water heater option for you!
PROS
Efficient and eco-friendly
Easy to install
Available in a variety of sizes
Ideal for small spaces
CONS
Expensive
Requires shore power connection
4-gallon tank capacity
---
Best Solar Shower: KIPIDA Solar Shower Bag
Price Range: Under $40
Type: Portable Bag
GPM/Capacity: 5 Gallon Max
BTU: N/A
Power Source: Solar
The most affordable, versatile and portable hot water heating option is this 5-gallon solar shower bag from KIPIDA.
In comparison to other hot water heaters on our list, this is the most stripped-down version and meets the inclusion requirements because it will heat water.
Designed with eco-friendly and leak-proof materials, this shower bag captures energy from the sun and warms the water inside.
It comes with a basic showerhead, hose and water tap with the ability to upgrade to an on/off switch. You also have a variety of colors to match your van lifestyle!
We love how simple this option is for any campervan. If you're worried about the space, weight or installation required in any of the previous water heater options, this is your go-to, especially for dry camping and boondocking.
The big downside, of course, is that your water will only be as hot as the sun and outside temperatures allow it to be. So the water heater "turns off" when the sun goes down and it may take a while for it to warm up again in the morning. And even if the sun is shining on a cold day you may not experience the same relief a hot shower would provide from one of our other recommendations.
You're also limited to the 5-gallon capacity. Use it all up and you'll be waiting hours for more warm water. And, of course, warm is about as "hot" as it will get. You won't have to worry about turning the heat down with this solar shower bag!
But this is the perfect solution for minimalist van lifers who are eager to get out on the road with the fewest things to worry about breaking along the way!
PROS
Super affordable
Lightweight, easy to pack
No installation required
CONS
Only heats up during the day
5-gallon limited capacity
---
What to Look for When Choosing the Best Campervan Water Heater
How much hot water do you need? What type of tank is best for your camper van? How often should the heater be serviced? Water heaters have many different features, so it can be challenging to determine which one is best for your needs.
We have assessed all of these water heaters based on standards such as size, energy use, BTU output, gallons per minute, kind of heater and fuel source.
So if you haven't already decided which is right for you, we'll help you understand the criteria for evaluating hot water heaters for your campervan.
Popular Water Heating Source Options in a Campervan
Although a hot water heater is the most traditional method for bringing hot water into your campervan, there are other methods you can consider if you'd like to save a few dollars and the time and effort of installation.
Each method has its own advantages and disadvantages, which we'll get into here.
Boiling Cold Water on the Stove
Boiling water is the most straightforward way to arrange hot water in your van. You can simply fill a kettle or a pot and then use your campervan stove, camping stove or campfire to heat the water.
This method is a more affordable option and recommended if you do not need significant amounts of warm water and want to avoid all the hassle involved in the complicated installation of campervan water heaters.
However, boiling water is also a cumbersome and inefficient heating system inside your van. But if you're on a budget, there are plenty of campers in van life that use this simple method for water heating.
Solar Water Heaters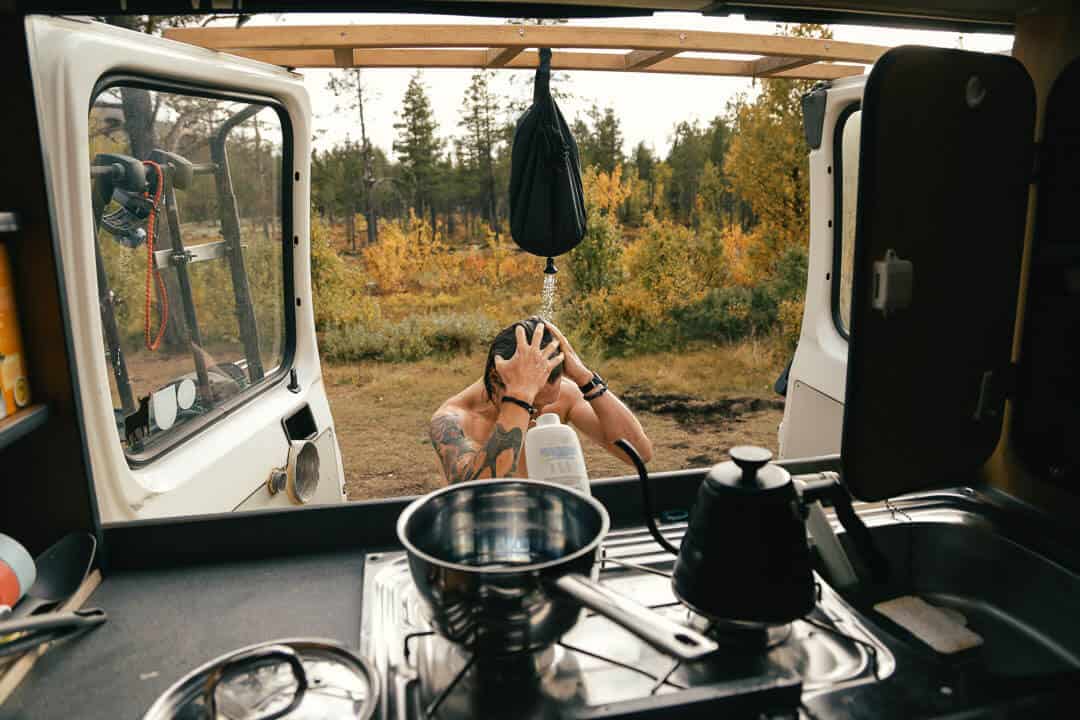 There are lots of ways to heat water with solar energy. Heating water by the sun is a much more affordable option as these heaters have low up-front costs for materials, can be installed relatively easily and do not require any energy costs.
On the other side, solar water heaters only perform better in sunny areas and do require additional rooftop space for installation. In addition, it only heats in the daytime so you will want a well-insulated tank to store heated water for nighttime.
You also won't end up with high water pressure for your shower head as you're relying on gravity rather than a water pump to build water pressure.
But this is another simple and cost-effective way to get around the cost, installation and space required for more traditional water heaters.
Size of Your Water Heater
When you're in the market for a new water heater, always keep your own living space and needs in mind. For example, as most camper van options come with limited storage space, you'll want to invest in a smaller heater that doesn't take up an excessive amount of room.
On the other hand, if you have more storage space, there's nothing wrong with going bigger and better! Most traditional water heaters will have a built-in tank between 4 and 6 gallons in capacity. So you will need to account for the extra space required in your van.
Water heaters with larger tanks are bulkier and heavier, so this also needs to be considered when choosing your product. You can bypass a separate tank capacity by considering a tankless water heater.
Tank vs. Tankless Water Heaters
Next, you need to think about whether a tankless water heater would work best for your camper van. 
A tankless water heater works by heating water directly when it flows through them. They are also known as "on-demand heaters" because they instantly provide hot water right to your camper van faucet or shower head.
If you want to save space in your camper van, then a tankless water heater is the best choice for you. They are also better when you want endless hot water. In addition, tankless water heaters tend to consume less energy as compared with tank-style water heaters.
These heaters can last twice as long as an average tank-style water heater. But they are more expensive options.
On the other hand, regular tank-style heaters are more affordable and than a modern tankless water heaters. They can typically run on either LP gas or electricity and bring water temperature up to desired ranges relatively quickly.
When it comes to installation, both options require a fair amount of mechanical and technical ability and we'd recommend that you consider consulting a professional to assist.
PROS of TANKLESS HEATER
Require less space
Provide instant hot water
Efficient use of fuel
CONS of TANKLESS HEATER
BOTH STYLES
Require water pump plumbing
May require professional install
PROS of TANK-STYLE HEATER
More affordable option
Run on 120-volt or propane
CONS of TANK-STYLE HEATER
Less efficient
Bulky
Require built-in tank
Power Source 
How you power your campervan water heater is something to consider. Whether you plumb propane from either a fixed or portable propane tank, use a 110V electric source or rely on the sun will determine which campervan water heater will be best for your van lifestyle.
Propane Water Heater
A propane water heater is fueled by LPG stored in tanks or mini cylinders near your water heater. Propane provides evenly distributed heat with high energy efficiency. But it is the least popular campervan water heater due to the fact many vans are not plumbed with propane and carrying a large gas cylinder takes up quite a bit of space.  
In addition, a propane water heater is usually more expensive than other options and they can be a little more challenging to install.
Electric Water Heaters
One of the best ways to keep the hot water flowing in your van or RV is by using an electric water heater. Water heated electrically can be heated much faster than if it were heated with other sources like propane or solar since electricity is an excellent source for instant power.
Electric heaters are an ideal option if you can rely on a steady source of shore power. In addition, electric water heaters are more affordable and convenient than standard propane hot water heaters.
You will not have to worry about the extra costs of propane with an electric-only water heater. But you won't be able to count on using it if you enjoy boondocking.
Electric water heaters are not great options when you constantly explore remote locations. However, some of the best water heaters operate on gas and electric power supply, giving you an option to use whichever is more convenient.
Energy Use
Water heaters are usually ranked by BTU/hr output, so make sure to check this number before you make your decision.
Water heaters that are used in vans and RVs usually range between 20,000 and 60,000 BTU/hr. Any option around 41,000 BTU is going to be more than adequate for most applications.
The amount of power used by a camper van heater also depends on how hot you want your water, as well as how often it operates.
Your van life should be enjoyable and convenient. In that respect, a camper van water heater is necessary to have some hot water always available when you need it.
Ease of Installation
The best camper van water heater is the one that is easy to install and saves your time and money in the long term. If you're doing your own van conversion this may be one appliance that you decide to hire out for help with the installation.
While they are not terribly complicated, depending on the kind of heater you choose, the fact remains that you may need to cut open space in the side of your van before doing the more simple tasks like connecting it to an LPG, electric and water source.
A water heater that is complicated to install may be a massive headache, especially when it comes time for replacement or repair.
There are heaters out there that don't require much significant installation at all – they hook right into your hot water system and start right up. Portable water heaters and some of the alternative styles, such as solar heaters, are relatively quick and easy to DIY.
But if you have any questions about installation, particularly when working with propane, know that it is always better and recommended to hire a professional mechanic to ensure safer installation.
Wrapping Up
While there are not too many options when it comes to adding a water heater to your camper van, the choice really comes down to what style you prefer. We are big fans of the Camplex 1.58 GPM on-demand heater.
It is small enough to mount in any number of convenient places and you can't argue with the piping hot water that flows out on demand! Keep enough water in your tanks to enjoy a hot shower indoors or outdoors and rest assured you made the best decision with this camper van water heater!
The Camplex Pro tankless heater is our top-ranked water heater because of its size and efficiency. We've seen loads of campervans that attach this heater to the back interior part of their van, either to a mounting area or directly on the door.
Connect it to your propane tank and water pump and expect instantaneous hot water for as long as you have water in the tank. Plumb the water to your sink or shower for all your hot water needs.
These are great options for both indoor and outdoor showers and we are confident you'll be happy with their performance anytime you need to grab a quick, hot shower!
DISCLAIMER: Some of the links in this article are affiliate links, which means if you book accommodation, tours or buy a product, we will receive a small commission at no extra cost to you. These commissions help us keep creating more free travel content to help people plan their holidays and adventures. We only recommend the best accommodations, tours and products that ourselves or our fantastic editorial team have personally experienced, and regularly review these. Thanks for your support, kind friend!
#Campervan #Water #Heaters