This Sweet Potato Cornbread recipe is a fall spin on the classic sweet and hearty cornbread that we love. Not only is it amazingly moist and tender, it's also packed with nutritious ingredients making it the perfect addition to any cozy fall meal.
In This Article
Video: Watch Us Make This
Why This Recipe Stands Out
Nothing beats sweet, buttery cornbread next to a hearty bowl of chili. And in the fall, we especially love making this Sweet Potato Cornbread. Here's why:
Fall Flavors: A generous portion of mashed sweet potato along with cinnamon and nutmeg gives this cornbread those autumn flavors that we crave.
Texture: This Sweet Potato Cornbread is super moist, tender, and buttery: not dry or grainy in the least!
Cast-Iron: We bake this cornbread in a cast-iron skillet which gives it that golden-brown, crispy exterior and helps it to cook evenly.
Healthy: This cornbread is packed with nutritious ingredients like sweet potatoes, cream of wheat, and Greek yogurt.
Easy-to-Make: If you are just getting into the world of baking, cornbread is a great place to start. It's so easy; just mix the ingredients and bake!
Key Ingredients
Sweet Potatoes – We like using medium-small, orange sweet potatoes for the best flavor and texture.
Cornmeal – A necessity for any cornbread recipe, cornmeal offers that slightly sweet flavor and course texture that we love.
Cream of Wheat – Cream of wheat boosts the health benefits of this recipe and adds a toothsome texture. However, if you prefer not to use it, you can totally substitute this for more cornmeal.
Spices – Cinnamon and nutmeg bring that warm, earthy flavor that complements the sweet potato perfectly.
Greek Yogurt – Whole, plain Greek yogurt is our secret to super tender cornbread. It also, balances the sweeter ingredients in this recipe.
Butter – We highly recommend tossing pats of butter on top of the cornbread straight out of the oven. It's so worth it!
Substitutions And Variations
Take a look at some of our favorite variations for this comforting fall treat:
Flour: To make this recipe even healthier, substitute the all-purpose flour for whole-wheat.
Gluten-Free: Sweet Potato Cornbread can easily be made gluten-free by substituting the cream of wheat for more cornmeal and replacing the all-purpose flour with 1:1 GF Baking Flour.
The Pan: If you don't have a cast-iron pan on hand, you can also use a baking dish to bake this cornbread. We recommend one that's similar in size to the pan (9×12 or 8×10 would work fine). Baking times will slightly vary with this. You'll know it's done when it's golden, the top puffs up slightly, and a few cracks appear.
Muffins: Feel free to make this cornbread into muffins or try these refined sugar-free Honey Cornbread Muffins.
Pumpkin: For another fall spin, try replacing the mashed sweet potato with pumpkin puree or take a look at this Autumn Pumpkin Cornbread recipe.
Step-By-Step Instructions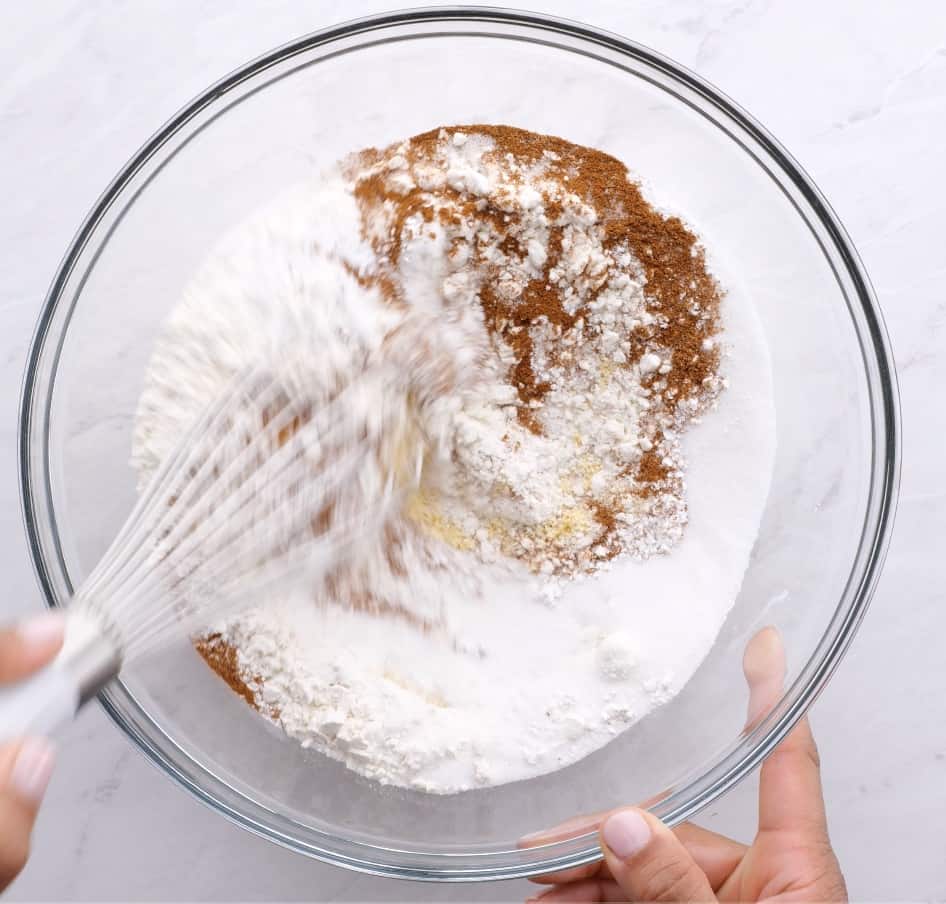 In large bowl, combine corn meal, cream of wheat, flour, sugar, baking powder, salt, cinnamon, and nutmeg.
In a separate bowl, whisk together mashed roasted sweet potato, eggs, yogurt, milk, and olive oil until smooth. (For instructions on cooking sweet potatoes, see recipe card).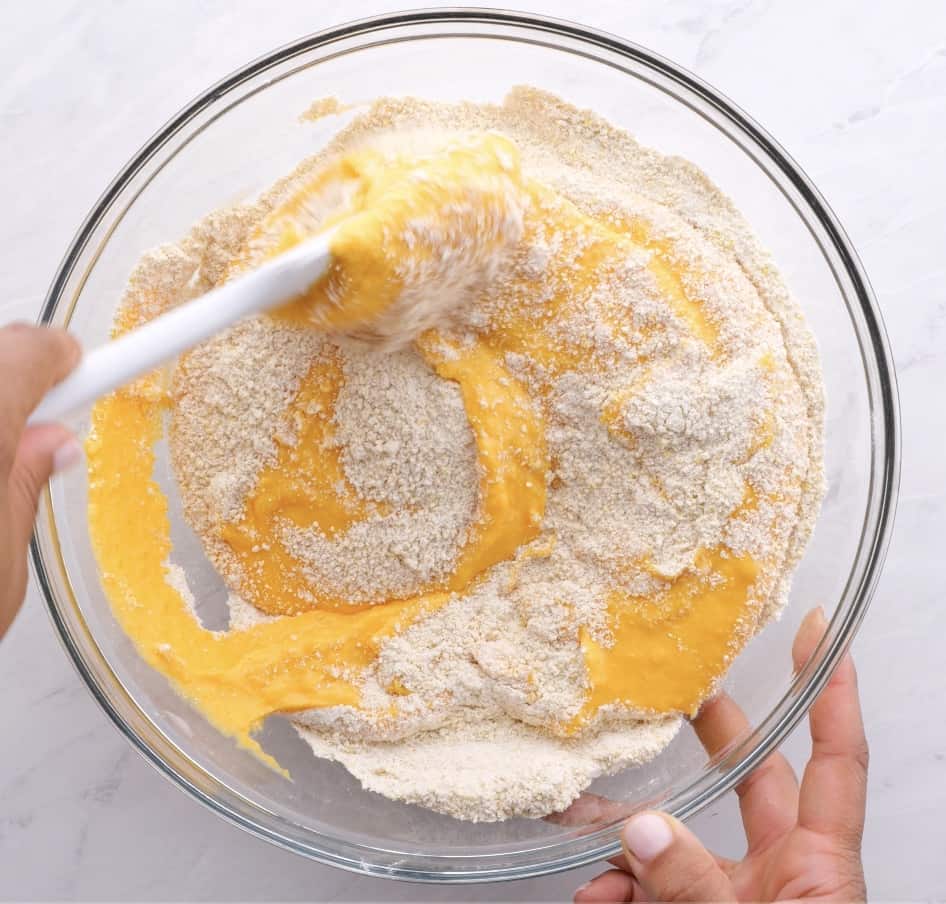 Fold wet ingredients into dry ingredients until just incorporated. Make sure not to overmix.
Scoop cornbread mixture into preheated/greased cast-iron skillet and bake at 425F for 25-30 minutes (until puffy and golden).
When cornbread is finished, place skillet on a wire rack and top with 4-5 pats of butter immediately.
Slice and enjoy right away. Sweet Potato Cornbread is best served fresh out-of-the-oven.
For full list of ingredients and instructions, see recipe card below.
How To Prep Ahead
There's no need to worry if you have a super busy schedule. We have a few prep-ahead tips that make enjoying this treat a breeze even with busy weeknight dinners.
Sweet Potatoes: We recommend roasting the sweet potatoes ahead of time (the night before or up to 2 days early). Just store them in the fridge until you're ready to bake.
Dry Ingredients: Dry ingredients such as cornmeal, flour, and spices can be combined in a bowl ahead of time; simply put the dry mixture in a covered container on the counter until you're ready to use.
Freeze: This cornbread freezes well too! Simply, wrap individual, fully-cooled slices in plastic and place in a freezer bag. They'll be good for 2-3 months.
What To Serve With Sweet Potato Cornbread
Commonly Asked Questions
How long does sweet potato cornbread keep?
Store cornbread in an airtight container in the fridge for up to a week. If you'd like it for longer, you can also freeze it for 2-3 months.
What should I look for when buying sweet potatoes?
For this recipe, pick whole sweet potatoes that are small to medium in size and are firm throughout, with no soft spots, wrinkles, or bruises. Larger potatoes tend to be older and more starchy. Once home, store your sweet potatoes in a cool, dry, and dark space. They'll generally keep well for about a week.
What does sweet potato cornbread taste like?
Sweet potato cornbread tastes similar to any sweet cornbread. The main difference you'll notice is a kick of cinnamon and nutmeg spice and a slightly more intense sweetness due to the sweet potatoes.
Can I make this recipe with other varieties of sweet potato?
There are so many fun varieties of sweet potatoes. Mainly, you'll see white , orange, and purple sweet potatoes at the store. We use orange ones for this recipe, but feel free to try any variety you'd like, and let us know the results!
How do I keep my cornbread from getting dry?
A big tip here is to avoid overmixing the wet and dry ingredients. Just fold them until barely incorporated. We also use whole Greek yogurt and milk in this recipe which both help to keep the cornbread moist. Surprisingly, sweet potatoes will also go a long way in keeping your cornbread moist and tender.
Did you make this?
Please give us a rating and comment below. We love hearing from you!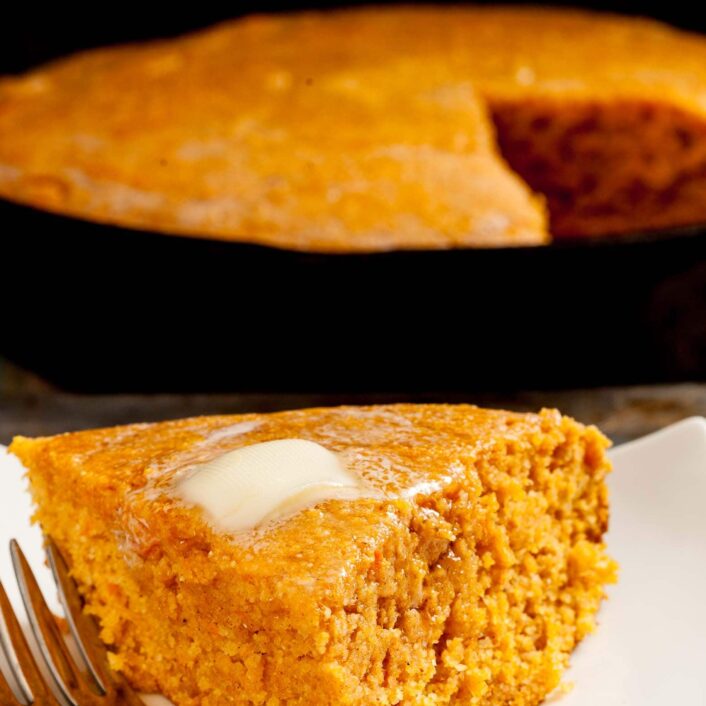 Sweet Potato Cornbread
This Sweet Potato Cornbread recipe is a fall spin on the classic sweet and hearty cornbread that we love. Not only is it amazingly moist and tender, it's also packed with nutritious ingredients making it the perfect addition to any cozy fall meal.
Do ahead: Wrap sweet potato in heavy foil and roast 1.5 hours at 425F in oven or toaster oven. Once it can easily be pierced with fork, it's done. Carefully unwrap (it's hot!) and let cool enough to handle. Gently peel off skin and mash sweet potato. Measure out 1.5 cups for use in this recipe.

Spray a 10 inch cast iron skillet with oil and set in oven on lower middle rack. Preheat oven to 425F.

In a large bowl, whisk together the cornmeal, dry creamy wheat, flour, sugar, baking powder, cinnamon, nutmeg, and salt. In a separate bowl, combine mashed roasted sweet potato, eggs, yogurt, milk, and olive oil. Whisk to combine well. Mixture should be smooth and thick.

Using a rubber spatula, gently fold sweet potato mixture with the cornmeal mixture just until no dry streaks of flour remain. Do not over-mix.

Place preheated/greased skillet on a heat-safe surface. Scrape batter into skillet, evening out the top into the edges. Bake 25-30 minutes or until top is puffy and golden brown. There should be cracks visible around edges of cornbread. Place cornbread on wire rack. Immediately place 4-5 pats of butter on top, letting butter melt into the cornbread.

Slice and serve with additional butter, if desired.

Cornbread is best when served hot and fresh, while top is slightly crisp and butter has just melted into it!
Cream of Wheat provides a toothsome texture and a boost of nutrition to this cornbread. However, if you'd prefer, you can sub with more cornmeal instead. 
Cook time does not include pre-roasting of sweet potatoes; please plan on roasting sweet potatoes ahead of time (can be done up to 2 days ahead.)
Do not leave leftover cornbread in the cast iron skillet, as it will take on an iron hue and flavor. Rather, serve the cornbread immediately and quickly transfer extra slices into a separate container.
If you enjoyed this recipe, please come back and give it a rating. We ❤️ hearing from you!
Calories: 299kcal | Carbohydrates: 49g | Protein: 9g | Fat: 13g | Saturated Fat: 5g | Polyunsaturated Fat: 1g | Monounsaturated Fat: 5g | Trans Fat: 0.2g | Cholesterol: 65mg | Sodium: 289mg | Potassium: 171mg | Fiber: 3g | Sugar: 14g | Vitamin A: 317IU | Vitamin C: 0.02mg | Calcium: 222mg | Iron: 5mg
More To Bake And Eat
Sweet Honey Cornbread – Crispy and golden on the outside with a soft, tender inside, this sweet honey cornbread is perfect served alongside your favorite soup or stew recipe. We love the flavor that real honey adds to this cornbread!
Honey Cornbread Muffins (No Refined Sugar) – There's no refined sugar in sight for these amazingly soft and moist cornbread muffins! Sweetened with only pure honey, these are perfect for a healthy breakfast, snack, or side to a comforting meal.
Autumn Pumpkin Cornbread – Pure pumpkin puree, brown sugar, and our favorite fall spices give this cornbread all the best flavors of the fall season. If you can't get enough pumpkin, we highly recommend serving this with a hot bowl of chili at your next meal.
Easy Corn Casserole Recipe – We can't get enough of this ultra-creamy, savory, and sweet corn casserole. It's the first thing to disappear from our table at family dinners.
#Sweet #Potato #Cornbread #Chew #Loud