This green chili recipe comes together easily and is a wholesome twist on classic chile verde. It has the same fresh flavors we love, but features chicken breast and your favorite kind of salsa verde.
Chile verde, also known as green chili, is a classic Mexican pork chili made with tomatillos and hot green peppers. It typically requires a lot of hands-on time for maximum flavor. So, we decided to put a Fit Foodie twist on chile verde and the result was delicious!
Our green chicken chili has all of the rich, savory flavors we love about classic chile verde, made with a few flavorful shortcuts and a leaner meat. It comes together in just over an hour on the stovetop, yet it tastes like it simmered all day long! It's totally different than our classic chili recipe, but just as comforting.
Featured Comment
"AMAZING!!! Definitely going to be adding this to my soup rotation. Very easy to make and great flavor without being too spicy." – Amanda
What You Need for Easy Green Chili
There are 3 parts to our green chili recipe:
Green Veggies
We use a combination of 3 different kinds of peppers for this green chili: poblano, jalapeño, and green chiles. To save time, we use a jar of salsa verde which adds wonderful flavor (and keeps everything green).
How to cut peppers (seeds vs no seeds):
There really is no right or wrong way to cut hot peppers because they'll eventually be blended together. However, we do recommend removing the cores and seeds of the peppers to tame the heat down. Slice off the tops of the peppers, cut them the long way down the middle, and remove the innards and seeds.
Meat
While classic chile verde calls for pork shoulder, we use chicken breasts for this green chili recipe. Boneless, skinless chicken breasts are one of our favorite lean meats to use and it cooks to tender perfection. Using chicken reduces the fat content while still adding protein.
Beans
You won't find beans in traditional chile verde recipes, but we are mixing it up! Not only do beans add extra fiber, they also up the protein and add a wonderful texture. We like to use this combination:
Pinto: A delicious, mild bean that adds a little color to this green chili.
White Cannellini: They're creamy and so versatile.
Hominy: While technically not a bean, hominy adds great texture and flavor.
Green Chili Substitutions
Try these simple swaps and substitutions for green chili:
Veggies: Increase or decrease the amount (and type) of peppers used and choose your favorite kind of salsa verde.
Chicken: Instead of chicken, try using the same amount of boneless, skinless chicken thighs, turkey breasts, beef roast, or pork shoulder.
If you do use pork shoulder for this recipe, the cooking time will increase significantly. Just make sure that the pork cooks to at least 145ºF to be safe to consume.
Beans: Use any beans you have on hand.
FAQ
Is this green chili spicy?

This particular green chili recipe is not super spicy, which makes it a family-friendly meal. If following the recipe as written, we don't think it's spicy – it's more flavorful than anything! But, for an even less spicy green chili, replace the jalapeño with another poblano pepper and use a mild salsa verde.
How can you make this chili spicier?

Add 1-2 more jalapeños OR don't discard all of the seeds. The seeds pack in a lot of heat. You can also use a spicier salsa verde (instead of mild) for more heat.
Do you have to blend the peppers?

One of the most essential parts about this recipe is actually blending the peppers, onions, and salsa verde with an immersion blender. This increases the depth of flavor and thickens the chili (no thickening agent required because of this step).

Storage
This green chili is delicious as leftovers throughout the week (just like all of our chili recipes). Let the chili cool completely, transfer to an airtight container, and refrigerate for up to 5 days.
Freezing Green Chili
Chili is one of our favorite meals to keep on hand in the freezer, especially during cold winter months. Once the chili has completely cooled, transfer to freezer-safe containers and freeze for up to 3 months. For all of our tips and tricks for freezing big batches of chili, check out our how to freeze soup and chili guide.
Serving Suggestions
Is it even chili without toppings? We like topping this green chicken chili with sour cream or Greek yogurt, diced red onion, cilantro, fresh lime juice, and a sprinkle of cheese. Sliced avocado or guacamole would also be delicious (and continues the green color scheme!). Serve with tortilla chips!
If you have leftover chili, use it as:
A topping for baked potato or nachos.
A filling for enchiladas or burritos (chili thickens overnight in the fridge and becomes the perfect filling!).
Breakfast! Serve with a fried egg on top.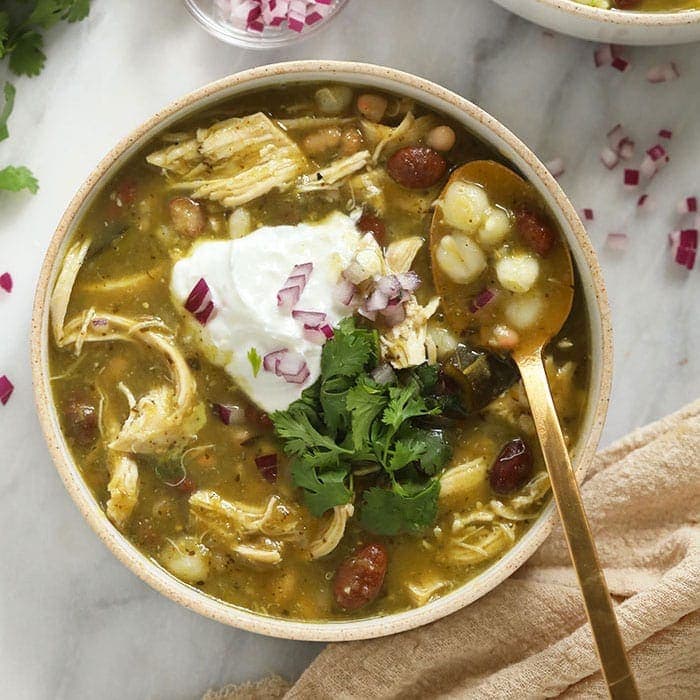 Green Chili
This easy green chili (aka Midwestern chile verde) has it all going on. It's perfectly spiced, packed with protein, and incredibly flavorful!
Prep:15 minutes minutes
Cook:1 hour hour
Total:1 hour hour 15 minutes minutes
Fat 6
Carbs 78
Protein 38
Ingredients
1

medium white onion

chopped

2

poblano peppers

diced

1

jalepeño

seeded and diced

1

shallot

minced

4

cloves

garlic

minced

2

tablespoons

olive oil

1/8

teaspoon

salt

4

oz.

can green chiles

16

oz.

salsa verde

any heat works

4

cups

chicken broth

1

lb.

boneless, skinless chicken breast

15

oz.

pinto beans

drained and rinsed

15

oz.

white cannellini beans

drained and rinsed

15

oz.

white hominy

drained
Instructions 
Preheat oven to 400ºF.

To an oven-safe stockpot, add the onion, poblano and jalapeño peppers, shallot, and garlic. Drizzle with olive oil, add the salt, and mix. Place the pot into the oven and bake for 25 minutes, stirring halfway.

Remove the stockpot from the oven and add the green chiles, salsa verde, chicken broth, and chicken breast. Mix well.

Place the pot on the stovetop over medium/high heat. Bring the mixture to a boil. Once boiling, cover, and reduce heat to low. Let simmer for 25-30 minutes, or until chicken is fully cooked.

Once the chicken is cooked through, transfer the chicken to a plate or cutting board and use 2 forks to shred it. Set aside.

Use a handheld immersion blender to blend the contents of the pot just until there are small chunks.

Add the shredded chicken back into the pot along with the beans and hominy.

Stir and let simmer for an additional 10 minutes.
Tips & Notes
Storage: Store leftover green chili in an airtight container in the refrigerator for up to 5 days.
Freezing Instructions: Once the chili has completely cooled, transfer to freezer-safe containers and freeze for up to 3 months. 
Crockpot Instructions: Place everything except for the beans and hominy in the slow cooker and cover. Cook on high for 3-4 hours or on low for 6-8 hours. Once the chicken is fully cooked, remove it from the crockpot and shred it with 2 forks. Set aside. Then, use a handheld immersion blender to blend the contents of the slow cooker. Place the shredded chicken back into the crockpot and add the beans and hominy. Mix well, cover, and cook for an additional 15-30 minutes.
Nutrition facts
Calories: 446kcal Carbohydrates: 78g Protein: 38g Fat: 6g Fiber: 9g Sugar: 8g
#Simple #Green #Chili #Midwestern #Chile #Verde