Our articles may contain affiliate links. For more information, view our policies.
If you've never grilled fruit, you're in for a treat. The simple act of grilling pulls out the fleshy succulence and an almost creamy quality from stone fruits. By caramelizing the sugars on the cut side of the fruit, the barbecue gives these balsamic grilled peaches an almost candy-coated crust. And of course, as anyone who has ever tried a peach pie or cobbler knows, warming the fruit intensifies its sweetness.
What makes this a healthy dessert?
As decadent as grilled peaches taste, they're still whole fruits. So you're getting one of your five servings per day by eating this dessert!
You'll notice that this simple fruit dessert doesn't call for added sugar. But the ingredients do include protein-rich nuts and cheese as well as one of my favorite healthy fats, avocado oil. (Here are my tips on the benefits of avocado oil and which brands of avocado oil are the best.)
What do you need to make this easy peach recipe?
The ingredient list for this simple, healthy fruit dessert is very straightforward. But here are my notes from my observations over years of making this stone fruit recipe.
Ingredients
Peaches – You can use white or yellow peaches for this grilling recipe. You can also substitute with nectarines or apricots, depending on what looks best at the market. However, the fruit should be slightly underripe. You don't want fruit that's too soft and juicy when you're working with it on the grill.
Avocado oil – This oil is neutral, meaning it won't add flavor to the final dish. You can substitute with walnut or almond oil if you prefer a hint of nutty flavor.
Balsamic vinegar – Choosing a good balsamic is key to making the most delicious peaches. Much of what's sold on grocery store shelves isn't true balsamic and it can be sharply acidic, not to mention unpleasantly bitter. If you want the best vinegar for this recipe, check the label for the words, Aceto Balsamico Tradizionale. This means it is traditionally made, aged balsamic from the region where this style of vinegar originated. The method for creating this vinegar is more complicated than making fine wine and the result is sweet and thick with an almost syrupy consistency, mellow enough to drink from a spoon. This intense vinegar should always be used sparingly.
Chevre or mild blue cheese – Chevre, soft goat cheese, is the literal centerpiece of each peach. It has a mild flavor and slight tang and blends beautifully with the creamy flesh of the peach. However, if you prefer a slightly bolder and less acidic flavor, try a mild blue, such as a Danish Blue or a soft Gorgonzola.
Roasted walnut pieces – Roasted walnuts give the dish a delightful crunch. But if you find walnuts to be too bitter, you can skip them or try roasted sunflower seeds instead. (I do not recommend substituting with pecans.)
Equipment
Grill – This is one piece of equipment you absolutely have to have to make this summer fruit recipe. The peaches can be grilled on either a charcoal or propane grill. If you need to invest in a grill, this basic Weber charcoal grill is an absolute workhorse and a great buy at under $150. The recipe is very forgiving and will work on a portable grill if that's all you've got. You can even make it on a camping grill at the beach or campsite. The one thing I do not recommend is an indoor, electric grill. It just doesn't produce the right, satisfying grill flavor and texture.
Tongs – I prefer to move the fruit on and off the grill with a pair of tongs that have silicone grips. I use plain stainless steel tongs for most grilling but the soft-grip tongs help prevent the fruit from getting crushed.
When to serve this grilled fruit recipe
This simple summer dessert recipe is ideal for throwing together at the last minute. Just toss the fruits on the grill after a good barbecue for a satisfying but healthy treat. It's a reicpe I like to serve after a heavy meal because the dessert is light and fairly refreshing.
But believe it or not, this recipe is more than a dessert. I also like using this grilled summer fruit as an accompaniment to simple grilled pork and chicken dishes. It's a semi-sweet side dish that can be used in place of apple sauce or fruit chutney.
Another variation? On a steaming hot day, try filling the center of the fruits with sorbet or ice cream instead of cheese for a cooling, yet still sexy snack. And speaking of sexy, this is my favorite finale to a midsummer's romantic meal.
Why this sweet peach dessert makes a happy ending to a romantic dinner
This stone fruit recipe is a great choice for a sweet and simple ending to a romantic dinner – and one that may lead to a different kind of sweet ending to your night. Why? Well for starters, it's incredibly easy to make. And I always recommend picking simple recipes like this one for a night of seduction. Choose ones that can be made in advance or have simple steps that you can follow even if you're distracted by the burning desire for your dinner date.
But it's also a seductive treat because it offers some of the world's most famous aphrodisiacs served together on one plate. A buffet of nutrients beneficial to your sex life, this recipe includes several of my favorite aphrodisiacs, like peaches, nuts and cheese. And don't forget that balsamic vinegar is made from the aphrodisiac of grapes. Even the avocado oil is beneficial to your sexual health! That's right, every ingredient in this recipe has something to offer to your sexual health.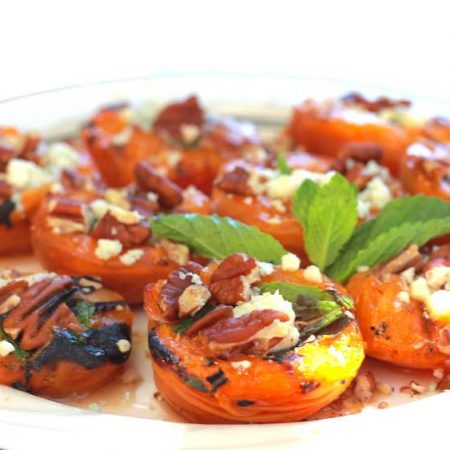 Print Recipe
Prevent your screen from going dark
This simple, summery dessert recipe takes the best of summer fruit and transforms it into a slightly savory yet sweetness-kissed dessert. 
Ingredients
2-3

lbs

slightly underripe yellow or white peaches

avocado oil

for brushing

8-10

leaves fresh mint or sweet basil

washed

balsamic vinegar

2

oz

chevre or blue cheese

1

tbsp

finely chopped, roasted walnut or sunflower seeds for garnish

optional
Instructions
Cut each fruit in half; brush each surface with avocado oil (using a little nut oil such as walnut oil gives it even more complexity of flavors).

Place cut side down on a heated grill or barbeque.

Grill for 2 minutes before turning. When you turn the fruit over, place a leaf of mint or basil in the hollow of the fruit. Grill for an additional 1-2 minutes

Remove from grill. Drizzle a few drops of balsamic vinegar over each peach half but be sure to use it sparingly. Place a crumble of goat cheese or blue cheese (see notes above) in the hollow, dividing evenly among the peach halves. Garnish with toasted, chopped walnuts.
Notes
Variations & substitutions
Swap out peaches for nectarines or apricots.
Try using walnut or almond oil in place of avocado. 
If you don't like walnuts, use sunflower seeds or omit the nuts entirely. 
For a refreshing treat, fill the fruits with a scoop of ice cream or sorbet in place of the cheese. 
A note on the provided nutrition information
The nutrition information provided has been estimated by an online nutrition calculator and is not a substitute for a professional nutritionist's advice.
Nutrition
Calories: 162kcal | Carbohydrates: 24g | Protein: 6g | Fat: 6g | Saturated Fat: 3g | Polyunsaturated Fat: 1g | Monounsaturated Fat: 1g | Cholesterol: 11mg | Sodium: 193mg | Potassium: 326mg | Fiber: 4g | Sugar: 19g | Vitamin A: 890IU | Vitamin C: 9mg | Calcium: 88mg | Iron: 1mg
Latest posts by Amy Reiley
(see all)
Get on our mailing list
Subscribe and get our exclusive list of Six Great Sex-Boosting Snack Foods for FREE!
Unsubscribe at any time.


#Simple #Balsamic #Grilled #Peaches #healthy #summer #dessert