Quick Summary
Apple cinnamon muffins with a sweet and buttery cinnamon crumb topping. These muffins are easy to make and are great for breakfast or snack time.
Muffins are one of my favorite things to bake, blueberry, banana, pumpkin, strawberry, zucchini, and the list goes on! I love that they double as a breakfast and snack and they're so good for days when you're on the go.
Apple Cinnamon Muffins are one of my go-to recipes! They make great use of in-season apples during the fall months, but are good year-round. 
The muffins are filled with cinnamon and allspice for a warm, comforting, spiced flavor that's nostalgic and totally delicious. You will find tender apple pieces in the center of the buttery muffins and the sweet cinnamon crumb topping will WOW you!
Ingredients
Here are the ingredients you'll need to gather to make these apple cinnamon muffins! I love the spices that add so much flavor into this recipe.
Flour – measure the flour most accurately by scooping it into the measuring cup and running a knife over the top before dumping it into the measuring bowl
Sugar– granulated and brown sugar
Baking soda and baking powder
Spices– ground cinnamon and allspice
Salt
Unsalted butter– melted and slightly cooled
Buttermilk, at room temperature – if you don't have buttermilk, measure out the amount of milk you'll need and add a splash of vinegar. Let it sit for a few minutes and it's good to go!
Eggs – you'll want these at room temperature for this recipe! Either pull them out ahead of time and let the eggs sit on the counter or run them under hot water for a minute or two to bring them to room temperature.
Vanilla extract– use pure vanilla extract! 
Apples – peel, core, and dice your apples!
What Apples are Best in Muffins?
I love using Granny Smith or Honeycrisp  apples. They're super juicy, and I love the way their tart flavor contrasts with the sweet muffin batter. Fuji, Braeburn, Jonagold, and Gala are all good options for baking as well.
Crumb Topping
I love a muffin with a crumb topping! It makes them feel like such a treat. I make this crumb topping first, and then refrigerate it while I make the muffins. Combine the following ingredients in a bowl: 
Flour
Brown sugar
Granulated sugar
Cinnamon
Melted butter
How to Make Apple Cinnamon Muffins
This muffin recipe is easy and your house will smell amazing while they are baking!
Line a 12 cup muffin tin with muffin liners AND spray the cups with nonstick cooking spray. Spraying the cups will ensure the muffins come out nice and clean. 
When you whisk the brown sugar into the dry ingredients make sure there are no brown sugar clumps. If you need to dissolve any large clumps with your fingers, you can. 
Melt the butter and let it cool slightly. Use room temperature eggs and buttermilk. 
Pour the wet ingredients over the dry and use a spatula to gently fold them together. Don't stir it for too long; just until the flour disappears! 
Gently fold in the apples. 
Divide the batter evenly among the muffin cups, then top each muffin evenly with crumb topping. 
Bake the muffins until they're golden brown and the tops are set. This should take 18-22 minutes, or until a toothpick inserted into the middle comes out clean. You can also check for doneness by touching the muffin top lightly and it will spring back when ready.
Let the pan cool on a cooling rack for 5 minutes before pulling them out of the pan.
Batter Consistency
Don't over mix the batter or your muffins won't be light and fluffy. Mix until the flour is just barely incorporated into the wet ingredients, and fold the apples in with as few stirs as possible. It will be a thick batter and that is ok!
Mini Muffins
You can absolutely use this recipe to make mini muffins! Follow the same instructions, fill your mini muffin tins, and just reduce the baking times. It will take 10 to 15 minutes, but check them early to be safe.
How to Store
The muffins are best the day they are made, but you can store them covered on the counter for up to 3 days. You can also freeze the muffins for up to 2 months in a freezer bag or freezer container.
More Muffin Recipes
More Apple Recipes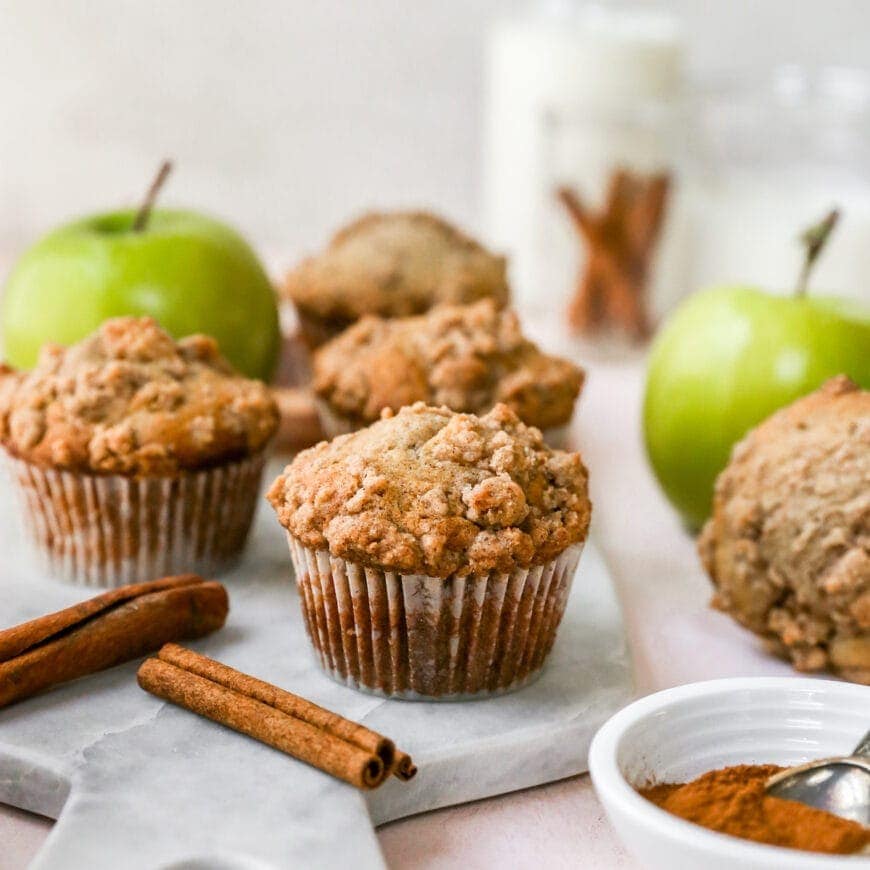 Muffins
Apple Cinnamon Muffins
Apple cinnamon muffins with a sweet and buttery cinnamon crumb topping. These muffins are easy to make and are great for breakfast or snack time.
Preheat the oven to 400 degrees F. Line a muffin pan with paper muffin cups or spray with nonstick cooking spray. Set aside.

To make the crumb topping, combine the flour, sugars, cinnamon, and melted butter in a small bowl. Mix with a fork until combined and mixture is crumbly. Place the bowl in the refrigerator until ready to use.

To make the muffins: In a large bowl, whisk together the flour, sugars, baking soda, baking powder, salt, and allspice. If there are small brown sugar clumps, break them up with your fingers.

In a small bowl, combine the melted butter, buttermilk, eggs, and vanilla. Whisk until eggs are well combined with the other liquid ingredients.

Pour the liquid ingredients over the dry ingredients and gently stir together with a spatula. Don't over mix the batter, stir just until flour disappears. Gently fold in the apples.

Divide the muffin batter evenly among the muffin cups. Top each muffin evenly with crumb topping. Gently press the crumbs into the batter.

Bake the muffins for 18 to 20 minutes or until the muffin tops are golden and the tops are set. You can insert a toothpick into the center of a muffin and if it comes out clean, they are done.

Transfer the pan to a cooling rack and let the muffins cool for 5 minutes in the pan. Remove from the pan and enjoy!
Calories: 297kcal, Carbohydrates: 41g, Protein: 4g, Fat: 13g, Saturated Fat: 8g, Cholesterol: 59mg, Sodium: 254mg, Potassium: 121mg, Fiber: 1g, Sugar: 21g, Vitamin A: 423IU, Vitamin C: 1mg, Calcium: 58mg, Iron: 1mg
Have you tried this recipe?
Leave a comment below and share a photo on Instagram. Tag @twopeasandpod and hashtag it with #twopeasandtheirpod


#Apple #Cinnamon #Muffins #Peas #Pod