3 Ingredient Tomato Soup is a rare combination of ease and flavor! Less than a handful of ingredients, under fifteen minutes, and only a few dishes in the sink. And what do you have to show for it? A luscious, robust, and satisfying Vitamix tomato soup you won't want to wait to sink your spoon into!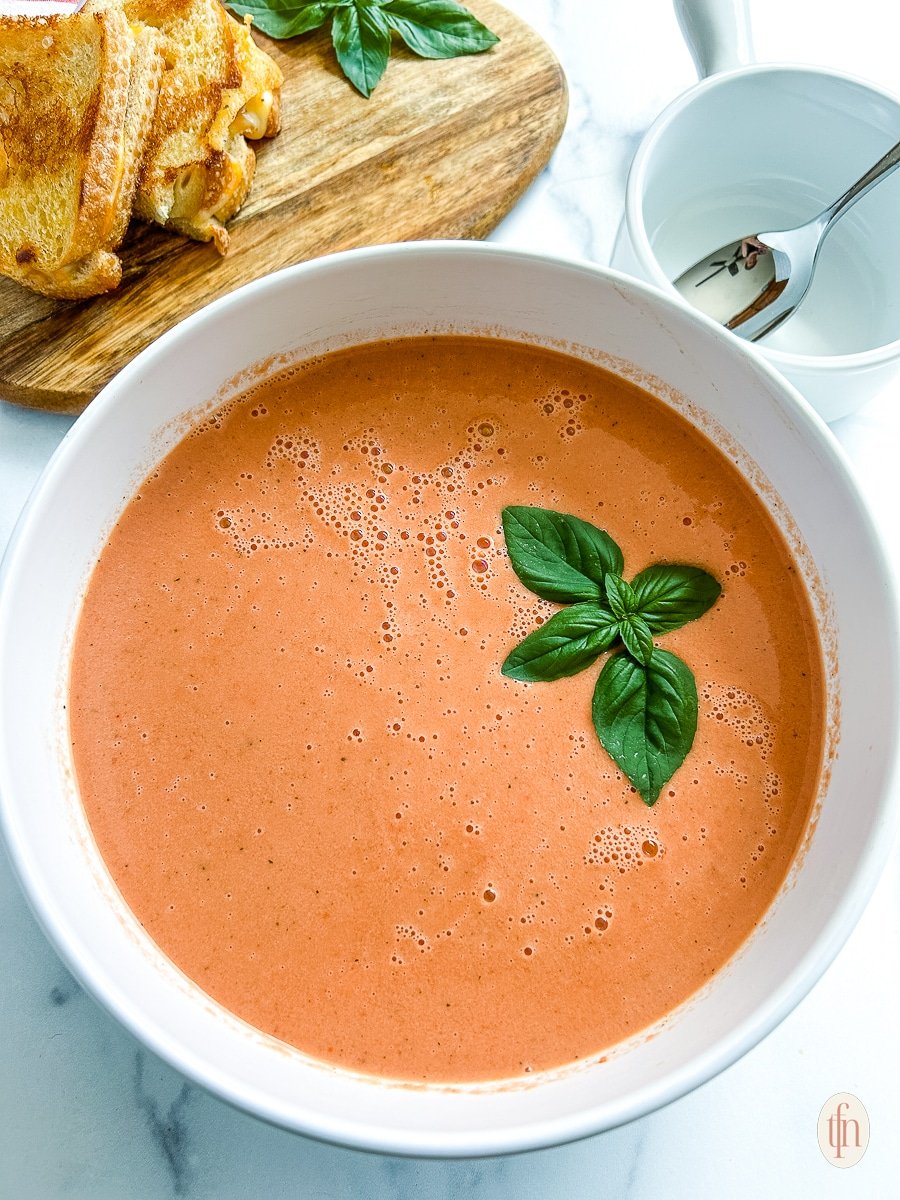 Why We Love 3 Ingredient Tomato Soup
It's a quick and easy tomato soup you can make in 10 minutes!
4 minutes of prep, 6 minutes of active cooking — less than 15 minutes overall until it's in your bowl!
You can make huge quantities with very little extra work.
We're not chopping vegetables, making a stock, or employing any difficult techniques, so prep doesn't take any longer if you decide to make enough to feed dozens!
It's freezer-friendly and easy to reheat.
A top-tier meal prep idea! It freezes well and thaws even easier. With no chunky ingredients, you could even throw it right on the stovetop to thaw!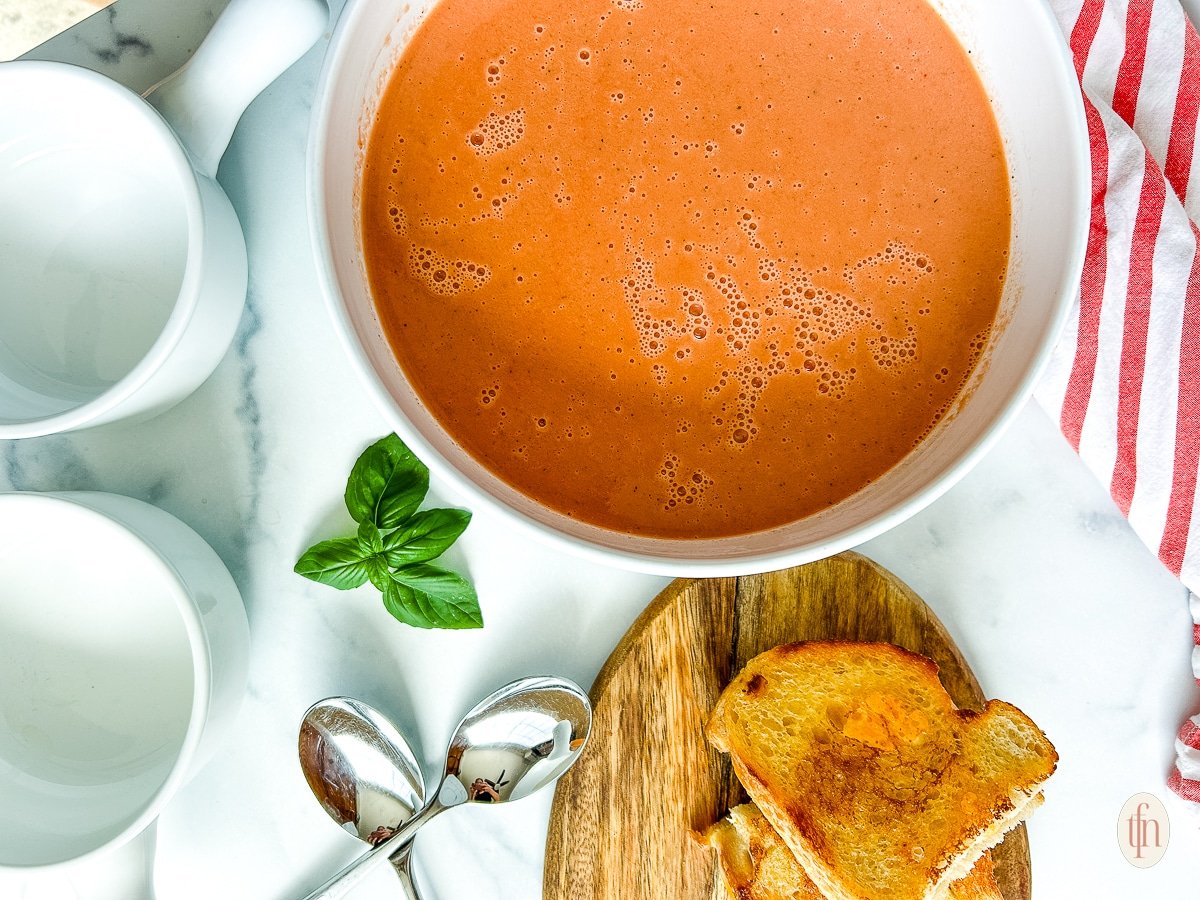 Ingredient Notes and Substitutions
Canned Tomatoes – Two brands we would recommend include Hunts and DelMonte. You have plenty of options with seasoning variations, which makes a big difference when preparing soup with canned tomatoes!
Vegetable Broth – Chicken or beef broths are suitable, but we feel vegetable broth best suits the palate of 3 ingredient tomato soup. Alternative, low-sodium options can be used — and you could even use water.
Heavy Cream – The creamiest, thickest, most luscious soups include heavy cream! Evaporated milk is a good, pantry-safe substitute that makes soups nice and thick, and half and half will make a decently creamy consistency if necessary.
Making Soup with Canned Tomatoes
Fresh isn't always the best! In fact, there are some real advantages to making soup with canned or diced tomatoes. 
The key is to choose an option with added seasonings, such as herbs, garlic, or other spices. These flavors will fill and flavor this 3 ingredient tomato soup with no other ingredients needed!
This trick also translates to other soups! Stovetop chili and Instant Pot tortellini soup are two that immediately come to mind. 
And it doesn't stop there. Casseroles that contain tomatoes, such as walking taco casserole, will reap the benefits of these seasonings even after the liquid is drained. Even sauces with tomatoes for their base, like a classic penne Pomodoro, can take advantage of this quick and easy ingredient. 
Vitamix Tomato Soup – Tips for Success
Save the canned tomato juice!

You may instinctively go to drain the juice from your canned tomatoes… but wait! Instead of letting it all go down the drain, take advantage of it by saving it to flavor your stock.

We mentioned earlier that using canned tomatoes with seasonings, like basil and garlic, will add more flavor to soup with canned tomatoes. The same goes for the liquid!

So go ahead and add the liquid to the blender along with the vegetables for maximum flavor.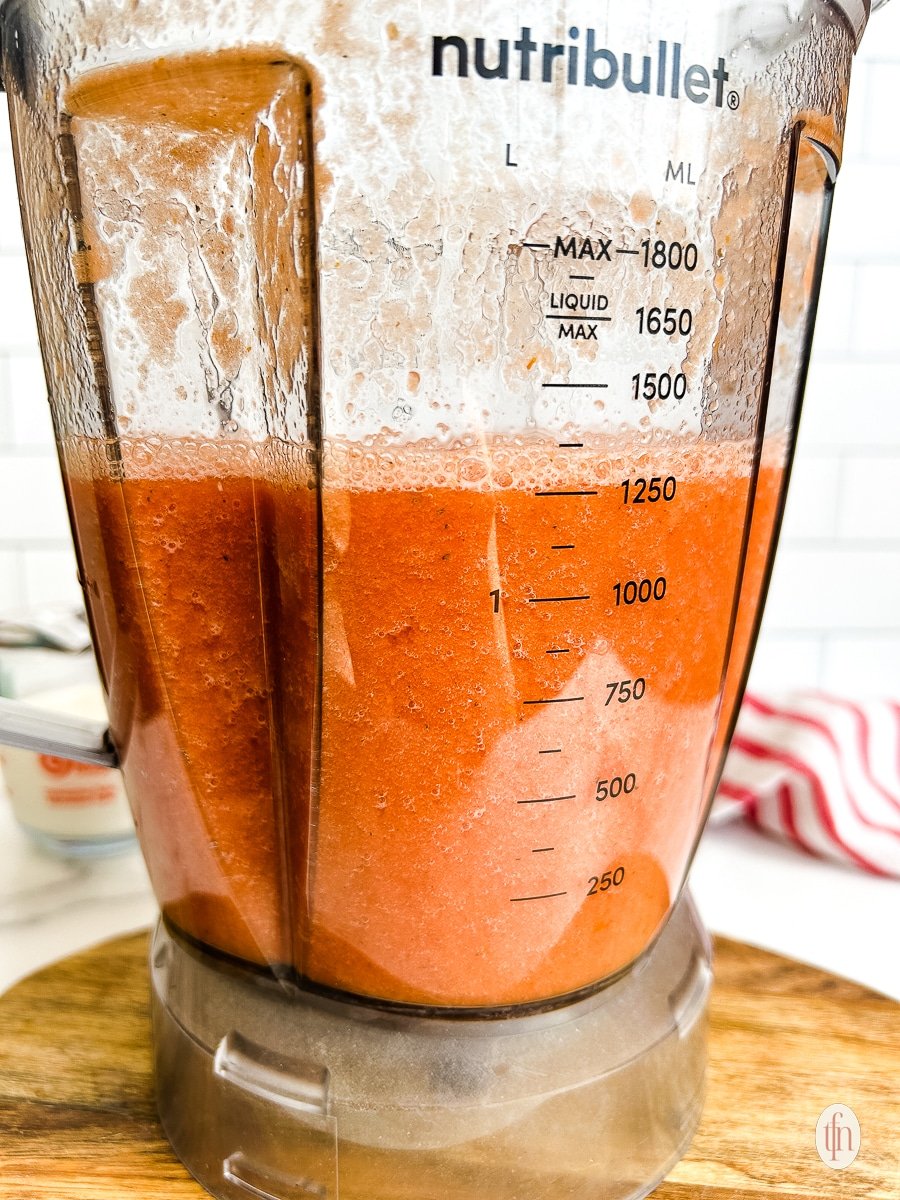 Don't heat Vitamix tomato soup too quickly or too much.

We're not looking for a fast, rolling boil.

Instead, use medium-high heat to reach a light boil so that the tomatoes, seasoned liquid, and broth can meld and marry while thickening in the pot.

Then, reduce it to a low simmer so it doesn't scald. Cooking too fast results in a less flavorful, flat-tasting batch.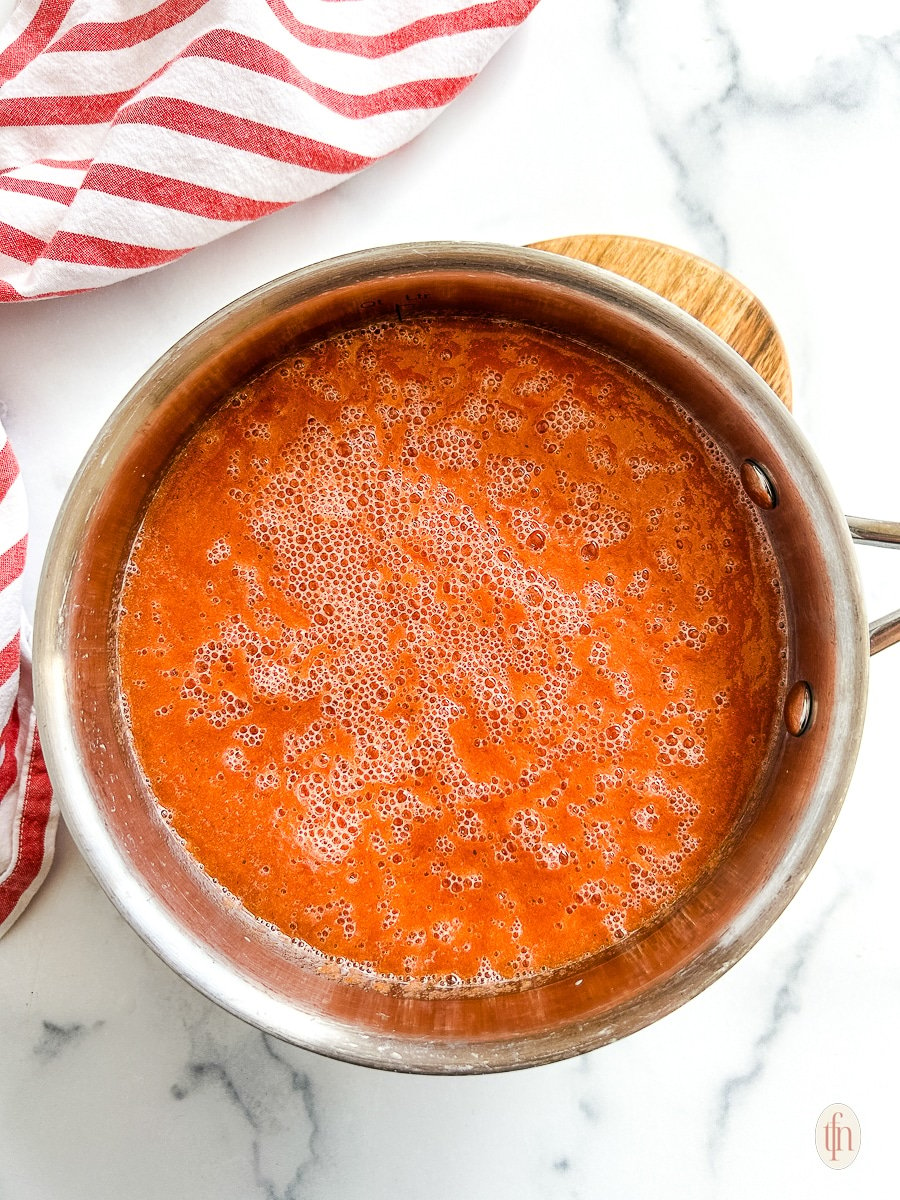 Add the cream last.

Adding milk to hot soups can be very tricky — add too much at once (or when the liquid is too hot) and the fat in the milk might separate, leaving a grainy texture.

What we do instead is remove about 1 cup of 3-ingredient tomato soup into a bowl and let it cool slightly. Then, we whisk in ¼ cup of the cream — just that small amount at first — before adding the remaining ¼ cup. 

This tempers the cream so it doesn't separate when added cold. Return the mixture to the pan, whisk, and your Vitamix tomato soup with canned tomatoes is creamy and complete!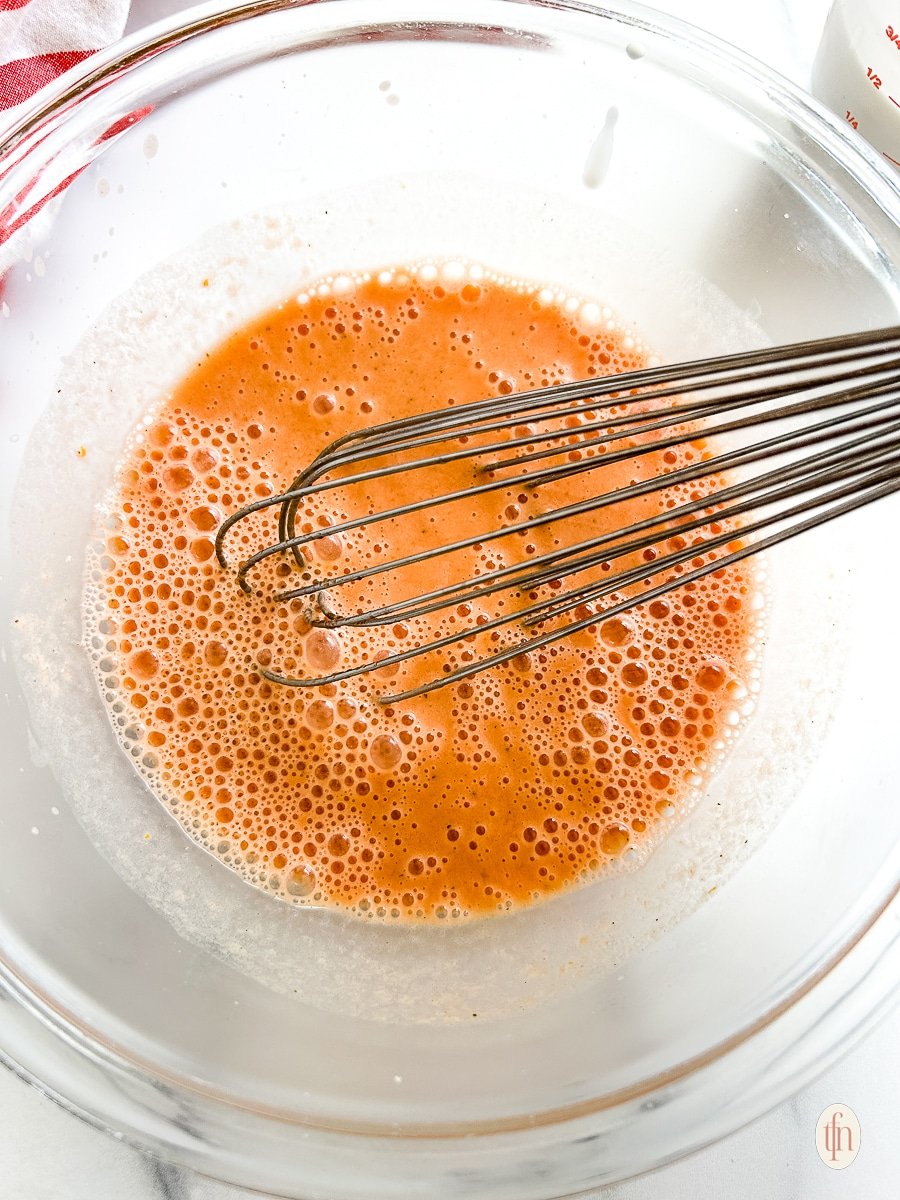 🎯 TFN Pro Tip
Use a properly sized blender for pureeing soup with canned tomatoes.
The best way to avoid splash-back while preparing blender soup is by ensuring the blades are totally covered by the liquid. As a result, using a huge food processor may not be the best course of action!
At the same time, you don't want the blender to be too small or else you'll have trouble pureeing all of the tomatoes that sit too high above the blades!
This 3 ingredient tomato soup recipe yields just over 5 cups of liquid, so choose equipment accordingly.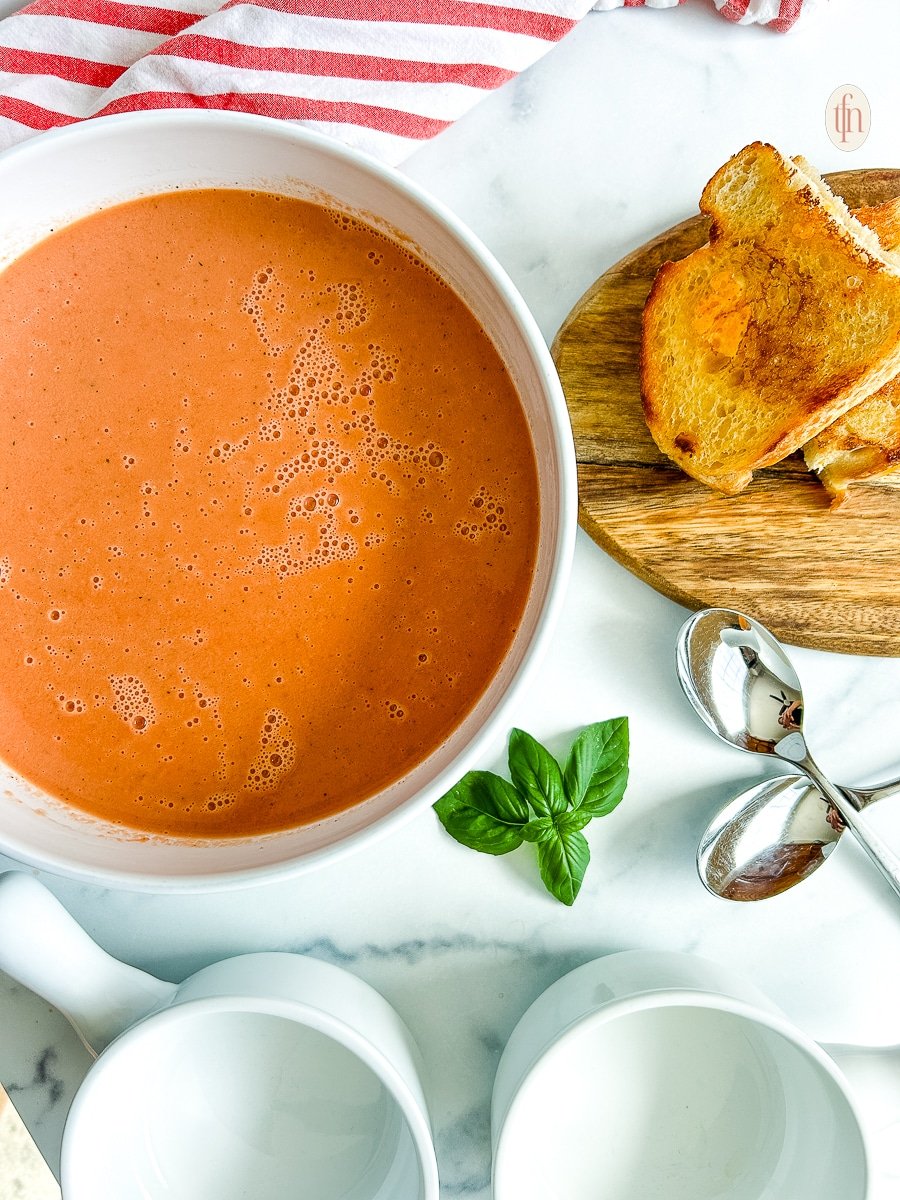 3 Ingredient Tomato Soup Recipe FAQ
What can I add to tomato soup for flavor?
One of the easiest, most impactful additions you can make to homemade soups is herbs: rosemary, thyme, and basil are top options. 
Additionally, some acidity in the form of vinegar or lemon juice will brighten the batch in no time!
Finally, extras like parmesan and bacon add a nice savory, salty flavor. 
Is tomato soup better with milk or water?
We feel that using milk, or in this case heavy cream, is best. That fat content leads to a silkier body, fuller and richer flavor, and just an overall more filling dish.
How do you thicken homemade tomato soup?
Allowing the pot to simmer longer will allow the contents to thicken gradually with no other ingredients needed. However, this will also reduce the amount of liquid! 
A cornstarch slurry is the easiest fix. Whisk together 1 tablespoon of cornstarch with 1 tablespoon of water, then drizzle it into the pot while stirring constantly. A few more minutes of simmering will thicken your soup right up!
Storing and Reheating
Once cooked, 3 ingredient tomato soup should be consumed within 4 days. Let cool completely and keep refrigerated. 
Reheat on the stovetop over low to medium heat, stirring continuously until warm.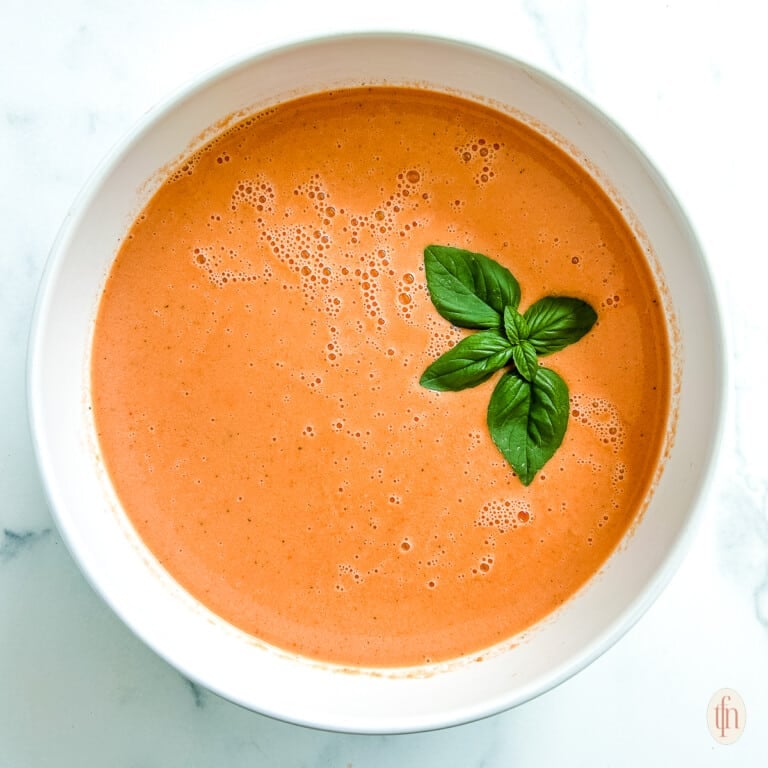 3 Ingredient Tomato Soup (Vitamix or Stovetop)
Renae
3 Ingredient Tomato Soup is a shortcut to a classic favorite! Blend, simmer, and serve our flavorful Vitamix tomato soup in just 10 minutes!
Ingredients
28

ounces

canned tomatoes

with seasoning *see Note 1

1 ½

cups

vegetable broth

(low sodium or regular) or water

½

cup

heavy cream

or half & half, or evaporated milk
Instructions 
Add canned tomatoes (including the liquid) and the vegetable broth to the bowl of a high speed blender or food processor.

Process for 30 seconds or pulse to combine.

Measure the heavy cream in a glass measuring cup and set aside.

Transfer the tomato mixture from the blender to a medium saucepan over medium-high heat. When contents come to a light boil, stir, then continue cooking for 5 minutes.

After 5 minutes, reduce burner heat to low. Using a soup ladle, carefully transfer 1 cup of hot tomato soup to a medium heat-safe bowl or tempered glass measuring cup.

Carefully but quickly, whisk about 1/4 cup of cream into the hot liquid. *This tempers the cold liquid so it doesn't separate when it's combined with the hot soup. Whisk in remaining 1/4 cup cream, then return the liquid to the saucepan and whisk to combine.

Optionally, season with salt and pepper to taste, and/or garnish with freshly chopped basil.
Notes
Using a brand of crushed or diced tomatoes with seasonings added is key to making a 3 ingredient soup. For example, both Hunts and DelMonte sell canned tomatoes with basil, garlic and oregano included.
Nutrition
Serving: 8 ounces | Calories: 113kcal | Carbohydrates: 11g | Protein: 3g | Fat: 8g | Saturated Fat: 5g | Polyunsaturated Fat: 0.5g | Monounsaturated Fat: 2g | Cholesterol: 22mg | Sodium: 415mg | Potassium: 406mg | Fiber: 3g | Sugar: 7g | Vitamin A: 701IU | Vitamin C: 12mg | Calcium: 58mg | Iron: 2mg
#Ingredient #Tomato #Soup #Vitamix #Stovetop